Articles
Removal Procedure
1. Remove the windshield bolts (1).
2. Remove the windshield and both side windshield brackets and bracket gaskets.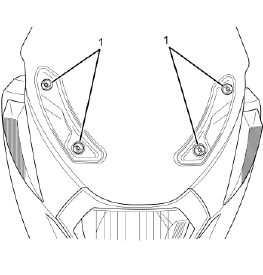 Installation Procedure
1. Ensure that the steel and fiber washers (1) are in place; the steel washer must be placed on the windshield support first.
2. Clean the console front fairing surface (2).
3. Install the windshield, gaskets and both brackets (make sure brackets are flat and fully in)
4. Install the windshield bolts (1).Tighten Windshield bolts to 3 N•m (27 lb in) - be carefull to not crack the windshield.