Articles
Removal Procedure
1. Remove the
Console Vertical Panel Trim
. Refer to
S-XC-S00239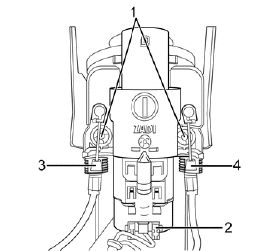 2. Remove both trunk (4) and glovebox (3) cables from the ignition switch.
3. Disconnect the switch connector (2).
4. Remove the breakaway bolts (1) and remove the switch. To remove the bolt you must use a bolt extractor. Follow the manufactures instructions on how to use the extractor.
Installation Procedure
1. Install the switch onto the scooter and install the bolts (1). Tighten the bolts until the nut head breaks off.
2. Connect the switch connector (2).
3. Install both the trunk (4) and cables, glovebox (3).
4. Install the Console Vertical Panel Trim. Refer to S-XC-S00239